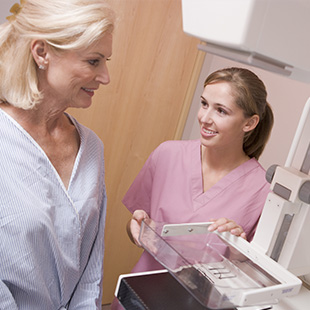 No one likes to think about breast cancer, but what you don't know can hurt you. Conducting self breast exams and getting mammograms when your doctor recommends are important steps to identifying breast cancer early for the most successful treatment. Mammograms save lives!

Mammography is an X-ray exam of the breast. It can spot breast cancer in the earliest stages—even before you or your doctor can notice a lump. There are two types of mammography exams—a screening mammography and a diagnostic mammography. A screening mammography is performed annually, when a woman has had no symptoms and does not have a personal history of breast cancer, while a diagnostic mammogram is used to follow up on known problems or to clarify the results of a screening mammogram.
Computer Aided Detection reduces false results
Advanced Radiology uses a digital software system called ImageChecker Computer-Aided Detection (CAD) that serves as a "second look" for your mammogram. This system is designed to assist the radiologist and minimize the number of false negative mammograms. Studies show that use of the ImageChecker could result in earlier detection of up to 23.4 percent of the cancers currently detected with screening mammography.
Who should get a screening mammogram?
The American Cancer Society offers the following guidelines to women:
Women 40 and older should have a mammogram every year.
Women with a family history of breast cancer and women who have had cancer themselves should consult their doctors about the need for more frequent or earlier mammography.
Women 20 and older should perform breast self-examinations every month
Women 20 to 39 should have a breast examination every three years, and an examination every year after age 39.
You should report symptoms such as lumps, nipple discharge, and persistent discomfort to your physician immediately.
Screening mammography exams are available at the following Advanced Radiology locations
Call to Schedule: 203-337-XRAY (9729)
Fairfield – 1055 Post Road
Shelton – 4 Corporate Drive, Suite 182
Stamford – 1259 E Main Street
Stratford – 2876 Main Street
Trumbull – Advanced Women's Imaging Center – 15 Corporate Drive
Preparation
A screening mammography exam includes two images of each breast, for a total of four images. During a mammogram, the breast tissue is compressed to spread and even out the tissue for better, more accurate images. For most women, this sensation is only mildly uncomfortable, and it lasts for only a few seconds. The exam usually takes 20 to 30 minutes to complete.
Do not use deodorant, antiperspirant, talcum powder or lotion under your arms or on your breasts on the day of the exam. Otherwise, no preparation is required. If possible, obtain your prior mammograms and provide them to our Advanced Radiology team in time for the exam.