Mammography uses low-dose
x-ray to image tissue inside the breasts. A mammogram aids in the early detection and diagnosis of breast diseases in women.
Imaging with x-rays involves exposing part of the body to a small dose of ionizing radiation to produce images that can be read by your Radiologist. X-rays are the most frequently used form of medical imaging.
All mammograms at Advanced Radiology are interpreted by subspecialized and fellowship-trained breast Radiologists.
Screening Vs Diagnostic
Preparing For This Exam
Request an Appointment
At Advanced Radiology you can choose 3D Breast Tomosynthesis, also called 3D mammography and Digital Breast Tomosynthesis (DBT), for your screening mammogram. This is the most advanced form of mammography, in which multiple images of the breast from different angles are captured and reconstructed ("synthesized") into a three-dimensional image set.
Large population studies have shown that the clearer, more detailed images produced by screening with 3D Breast Tomosynthesis result in an improvement in breast cancer detection of up to 40%1, and 15% fewer "call-backs" due to false positive results.
3D Breast Tomosynthesis may also result in:
Earlier detection of small breast cancers that may be hidden on a 2D mammogram
Fewer unnecessary biopsies or additional tests
Greater likelihood of detecting multiple breast tumors
Clearer images of abnormalities within dense breast tissue
Greater accuracy in pinpointing the size, shape and location of breast abnormalities
To learn more, download a copy of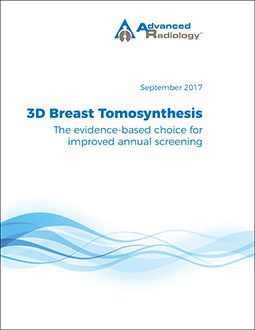 3D Breast Tomosynthesis: The evidence-based
choice for improved annual screening.
3D Breast Tomosynthesis is available at the following Advanced Radiology locations:
Fairfield – 1055 Post Road
Stamford – 1259 E Main Street
Stratford – 2876 Main Street
Trumbull – Advanced Women's Imaging Center – 15 Corporate Drive
Wilton – 30 Danbury Road

Screening vs. Diagnostic Mammography
Annual Screening Mammography is performed for patients without signs and/or symptoms of breast disease, discomfort, or past findings requiring follow-up. Advanced Radiology supports recommendations from the American College of Radiology (ACR) and the Society of Breast Imaging (SBI) that all women should begin Annual Screening Mammography at age 40.
Screening mammography is available at the following Advanced Radiology locations:
Fairfield – 1055 Post Road
Stamford – 1259 E Main Street
Stratford – 2876 Main Street
Trumbull – Advanced Women's Imaging Center – 15 Corporate Drive
Wilton – 30 Danbury Road
Diagnostic Mammography is usually performed as a follow-up to previous findings, to document changes or stability, and for patients with clinical signs and/or symptoms of possible breast disease, a history of breast cancer, or other factors that make a diagnostic exam necessary.

Diagnostic mammography is available at the following Advanced Radiology locations:
Stamford – 1259 E Main Street
Trumbull – Advanced Women's Imaging Center – 15 Corporate Drive
Wilton – 30 Danbury Road
Download our fact sheet for further information
on Screening vs. Diagnostic Mammography,
including insurance and billing information.
How should I prepare for my Mammogram?
Before scheduling a mammogram, we recommended that you discuss any breast symptoms or problems with your doctor.
Please bring any prior mammography images to your appointment if they were done at a facility other than Advanced Radiology. It is important that they be compared with your current exam.
You will be required to complete a medical history questionnaire describing any prior conditions, risk factors, medication use, or surgery. Always inform your Technologist if there is any possibility that you are pregnant.
Do not wear deodorant, powder or lotion under your arms or on your breasts on the day of the exam. These can appear on the mammogram as calcium spots.
What will I experience during the exam?
In conventional film and digital mammography, a stationery x-ray tube captures an image from the side and an image from above the compressed breast. In breast tomosynthesis, the x-ray tube moves in an arc over the breast, capturing multiple images from different angles.
During your exam, your Technologist will position your breast in the mammography unit. Your breast will be placed on a special platform, and the technologist will gradually compress your breast with a clear plastic paddle.
Breast compression is necessary in order to:
Even out the breast thickness so that all of the tissue can be visualized
Spread out the breast tissue so that small abnormalities are less likely to be hidden by overlying tissue
Allow for a lower x-ray dose since a thinner amount of breast tissue is being imaged
Hold the breast still in order to minimize blurring of the image caused by motion
Reduce x-ray scatter and increase sharpness of the images
You will be asked to change positions between images. Standard views in a 2D mammogram are a top-to-bottom view and an angled side view. This process will be repeated for the other breast. Compression is still necessary for tomosynthesis imaging in order to minimize motion. During screening breast tomosynthesis, two-dimensional images are also obtained or created from the synthesized 3-D images.
You must hold very still and may be asked to keep from breathing for a few seconds while the x-ray picture is taken to reduce the possibility of a blurred image. The Technologist will walk behind a wall or into the next room to activate the x-ray.
After a diagnostic mammogram, you may be asked to wait until the radiologist determines that all the necessary images have been obtained.
The entire process, including the actual exam, should take about 30 minutes.
What are the risks and benefits of Mammography?
Screening mammography reduces the risk of death due to breast cancer. It is useful for detecting all types of breast cancer, including invasive ductal and invasive lobular cancer.
Screening mammography improves a physician's ability to detect small abnormal tissue growths confined to the milk ducts in the breast, called ductal carcinoma in situ (DCIS).. When cancers are small, the woman has more treatment options.
In the typical diagnostic range, x-rays have no side effects. Patients receive a very low radiation dose, equivalent to seven weeks of exposure to natural background radiation. No radiation remains in a patient's body after an x-ray examination.
Five to 15 percent of screening mammograms require more testing such as an additional mammogram or an ultrasound. Most of these tests turn out to be normal. If there is an abnormal finding, a follow-up or biopsy may need to be performed. Most biopsies confirm that no cancer is present.
If you have any additional questions regarding your exam,
please call 203.337.XRAY (9729).
If you would like to schedule an appointment, click here.