How we minimize and manage radiation dose for your safety
Your safety is paramount at Advanced Radiology. While some imaging studies use radiation to generate diagnostic images, including X-rays, CT scans, mammograms and DEXA bone density scans, the amount of radiation used in most exams is very small. Our radiologists and technologists are trained to use the minimum amount of radiation necessary to obtain a quality image.
NEW DoseWatch technology allows us to monitor and track your exposure
Because of our commitment to patient safety, Advanced Radiology has taken dose management to the next level with DoseWatch*—a new dose monitoring software. DoseWatch allows us to keep track of the radiation doses you receive over time—from different machines and different locations. Our technologists have this information at their fingertips to prevent excessive radiation exposure. Advanced Radiology is the first imaging center in Connecticut with DoseWatch. This technology allows our radiologists to produce the quality images your doctor needs while monitoring radiation doses with even more precision.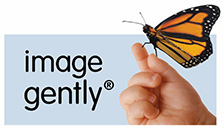 Advanced Radiology also participates in Image Gently, a program developed by The Alliance for Radiation Safety in Pediatric Imaging. If your child needs an imaging procedure, you can be assured our radiologists and technologists have their safety in mind. We follow strict guidelines and protocols when performing imaging studies on every patient, and especially when working with children. By taking the Image Gently pledge, we promise to:
Decrease radiation dosage levels used for children
Scan only the necessary area of the body
Limit the number of scans or views when possible
Learn more at www.pedrad.org