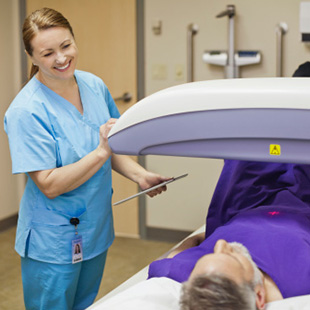 Bone density screening is a simple, painless and non-invasive way to test for osteoporosis—a disease that involves bone loss and weakness. It is one of the most prevalent diseases in postmenopausal women. The exam consists of low-dose X-rays at two sites—usually the lower spine and the hip. The test measures your bone mineral density and helps you physician diagnose bone loss early, so you can be treated to prevent future bone weakness and fractures.
Staying ahead of Osteoporosis
Osteoporosis doesn't usually produce symptoms until a fracture occurs—most typically in the hip, back, or wrist. Collapsed vertebrae due to osteoporosis can result in severe back pain, loss of height, and a stooped posture or other spinal deformities. It is also estimated that this disease is responsible for 1.3 million fractures a year.
Postmenopausal women at special risk
Women who have gone through menopause are at greatest risk for osteoporosis. Due to hormonal changes, women can lose up to 20 percent of their total bone mass in just the five to seven years following menopause. Although osteoporosis occurs more commonly in women, men can also be at risk, especially if they are inactive, and as they get older
Who should get a DEXA Bone Density Screening?
Bone density testing is strongly recommended if you:
Are a post-menopausal woman and not taking estrogen
Have a personal or maternal history of hip fracture or smoking
Are a post-menopausal woman who is tall (over 5 feet 7 inches) or thin (less than 125 pounds)
Are a man with clinical conditions associated with bone loss
Use medications that are known to cause bone loss, including corticosteroids such as Prednisone, various anti-seizure medications such as Dilantin and certain barbiturates, or high-dose thyroid replacement drugs
Have type 1 (formerly called juvenile or insulin-dependent) diabetes, liver disease, kidney disease or a family history of osteoporosis
Have high bone turnover, which shows up in the form of excessive collagen in urine samples
Have a thyroid condition, such as hyperthyroidism
Have a parathyroid condition, such as hyperparathyroidism
Have experienced a fracture after only mild trauma
Have had X-ray evidence of vertebral fracture or other signs of osteoporosis
DEXA screenings are available at the following Advanced Radiology locations
Call to Schedule: 203-337-XRAY (9729)
Stamford – 1259 E Main Street
Stratford – 2876 Main Street
Trumbull – Advanced Women's Imaging Center – 15 Corporate Drive
Wilton – 30 Danbury Road
Preparation
You should have no calcium for 24 hours prior to your exam and no barium studies within one week prior to your DEXA scan.
A DEXA bone density screening is fast, simple, painless and non-invasive. You will be required to change into a gown for this exam. The DEXA machine sends a thin, invisible, low-dose X-ray beam through you lower spine and hip. The results are used to calculate your bone mineral density.