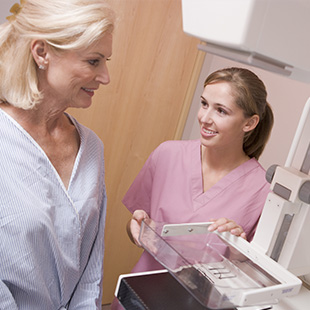 Diagnostic mammography is performed if you discovered a lump or other breast changes, either during a self-exam or a doctor visit. A diagnostic mammogram is also scheduled if an abnormality is detected on a screening mammogram, as well as for patients with breast implants. Diagnostic exams are also used to follow-up known problems or abnormalities, including patients who have been treated for breast cancer.
Diagnostic mammography exams are available at the following Advanced Radiology locations
Call to Schedule: 203-337-XRAY (9729)
Stamford – 1259 E Main Street
Trumbull – Advanced Women's Imaging Center – 15 Corporate Drive
Preparation
A diagnostic mammogram will include more images of either (or both) breasts in addition to the standard images obtained for every patient. As with a screening mammogram, breast tissue is compressed to spread and even out the tissue for better, more accurate images. For most women, this sensation is only mildly uncomfortable, and it lasts for only a few seconds.
Do not use deodorant, antiperspirant, talcum powder or lotion under your arms or on your breasts on the day of the exam. Otherwise, no preparation is required.