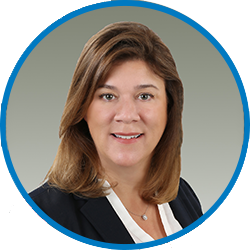 Dr. Sarah Stewart is a diagnostic radiologist at Advanced Radiology. She completed her residency and Fellowship at Yale New Haven Hospital in New Haven, CT. She was previously a Diagnostic Radiologist at Greenwich Hospital, and served on the hospital's Peer Review and Cancer Committees.
Specialty
Breast Imaging
Education
Undergraduate Degree: Indiana University Post-Baccalaureate Pre-Medical Degree: Tufts University Medical Degree: Upstate Medical University Residency: Yale New Haven Hospital, Diagnostic Radiology Fellowship: Yale New Haven Hospital, Breast and Body Imaging
Board Certification
American Board of Radiology
Research/Publications
Stevenson WG, Mitchell R, Friedman PL, Stewart ST, Seifert MJ. Radiofrequency Ablation of Lesions Produced by a Cooled-Tip Catheter in Human Infarction. Circulation. 1996; 94(8):I-22. Delacretaz E, Stevenson WG, Winters GL, Mitchell RN, Stewart S, Lynch K, Freidman PL. Ablation of Ventricular Tachycardia with a Saline Cooled Radiofrequency Catheter: Anatomatic and Histologic Characteristics of the Lesion in Humans. J. Cardiovascular Electrophysiology. 1999;10:850-865. Prasad, SR, Saini S, Stewart S, Hahn P, Halpern EF. CT Characterization of "Indeterminate" Renal Masses: Targeted or Comprehensive Scanning? Journal of Computer Assisted Tomography. 2002; 26(5):725-727. Stewart ST, McCarthy SM. Case 77: Aggressive Angiomyxoma. Radiology. 2004; 232:368-369. Elia G, Stewart S, Makhuli ZN, Krenzer BE, Mathur S, Simon HM, Mehdi S. Metastatic Breast Cancer Diagnosed During a Work Up for Urinary Incontinence: a Case Report. International Urogynecology Journal. 1999; 10(1):39-42. Camus MG, Joshi MG, Cox MA, Lee AKC, Oster ME, Stewart S, Hughes KS. Infiltrating Lobular Carcinoma of the Breast: Diagnosis and Treatment of Pure and Mixed Forms. Poster Presentation 17th Annual San Antonio Breast Cancer Symposium, 1994. Stewart ST, Daftary A, Philpotts LE, Weinreb JC, Lee CH. MRI-Guided Needle Localization Biopsies of the Breast: Histologic Outcome and Miss Rate. Presented at RSNA 2004.
Affiliations and Memberships
Society of Breast Imaging Radiological Society of North America American College of Radiology American Association of Women in Radiology